As more people leave the pavement to get outside, we continue to invest in new tools and systems to better facilitate exploration and safe vehicle retrieval.
MAXTRAX, the market leader in overlanding and off-road vehicle recovery and extraction tracks, was awarded a SEMA Global Media Award during the Specialty Equipment Manufacturers Association Show in Las Vegas for its 4x4 Recovery System.
The MAXTRAX 4x4 Recovery System is an innovative new product with expanded tools to assist overland enthusiasts in safely recovering their vehicles. It consists of a soft-shackle-only hitch receiver, a winch ring, a collection of soft shackles, different length kinetic and static ropes and a tethered dampener that can be stored in the supplied MAXTRAX kit bag.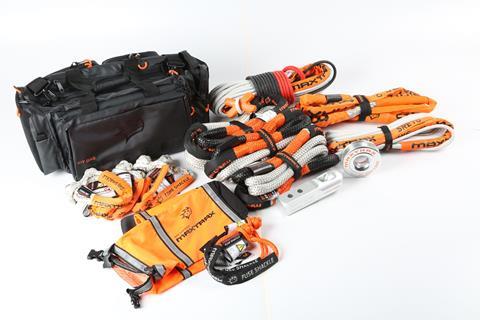 "We're thrilled to be recognized by SEMA for the 4x4 Recovery System. It's an expansion of the MAXTRAX accessory line and will allow people all over the world to recover vehicles more safely and efficiently," said Paul Toohey, Production Manager.
The SEMA Global Media Award program involves journalists from around the world coming to the annual SEMA Show to identify and discover new products likely to succeed in their home countries. The participating media includes many top publications and editors in the industry.
"The 4x4 Recovery System is a prime example of the company's offerings to support safe outdoor adventures. As more people leave the pavement to get outside, we continue to invest in new tools and systems to better facilitate exploration and safe vehicle retrieval. MAXTRAX continues to offer category-leading design and innovative solutions for the outdoor community." said John Walbrecht, President of Clarus Corporation.
MATRAX, which Clarus Corporation acquired in 2021, plans to continue to innovate and have greater distribution for MAXTRAX through Rhino-Rack, another Clarus brand.
To See the Complete 16 Product 4x4 Recovery Kit, Click Here
About MAXTRAX
On a remote beach in Far North Queensland in 2001, MAXTRAX Founder Brad McCarthy nearly lost his beloved Land Cruiser to an incoming tide while stuck on the beach. After looking at the existing options, all based on surplus from World War II, Brad knew there had to be a better way. A few years and prototypes later, MAXTRAX launched in 2005 the world's first vehicle-specific recovery board, the MKI. Fifteen years later, with the MAXTRAX Xtreme, MAXTRAX is still innovating and pushing the boundaries on what has become a new age of four-wheel-drive vehicle recovery. For more information, visit www.maxtraxus.com.

About Clarus Corp
Headquartered in Salt Lake City, Utah, Clarus Corporation is a leading developer, manufacturer and distributor of best-in-class outdoor equipment and lifestyle products focused on climbing, skiing, mountain, and sports markets. With a strong reputation for innovation, style, quality, design, safety and durability, Clarus' portfolio of iconic brands includes Black Diamond, Sierra, Barnes, PIEPS, SKINourishment, MAXTRAX and Rhino-Rack sold through specialty and online retailers, distributors and original equipment manufacturers throughout the U.S. and internationally. For additional information, please visit www.claruscorp.com.