JOHNSON VALLEY, Calif. (August 24, 2023) – Tickets are available now for the 2024 Progressive King of the Hammers Powered by OPTIMA Batteries. The event features a 14-day schedule packed with races across treacherous terrain, concerts, a vendor show and exciting entertainment for all ages, taking place around a temporary city that rises in the desert.
From now until September 30 tickets are $50, offering fans the opportunity to take advantage of early pricing. From October 1 through January 1, 2024, tickets will be $75, and from January 2 through the duration of the event, tickets will be $100.
The 2024 Progressive King of the Hammers Powered by OPTIMA Batteries (KOH), is more than just a race; it's an experience that connects competitors and participants (fans), from all corners of the off-road racing world. KOH is nearly a dozen days of racing for off-road vehicles of every shape and size, catering to Individuals tinkering in their garages to create their own vehicles, as well as professionally sponsored teams. The camaraderie of KOH brings all competitors and fans to the lakebed equally, and each year the competition elevates.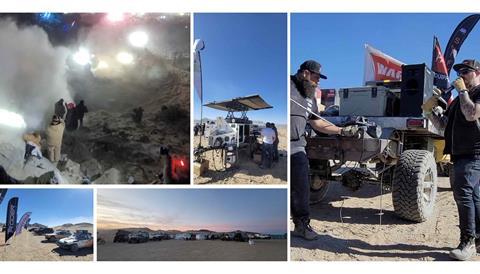 When you purchase a King of the Hammers ticket, you'll receive 50% off merchandise sitewide at KingoftheHammers.com. Fans can take advantage of a 30% off merchandise sale without the purchase of a ticket. Both sales run now through August 31.
The 2024 Progressive King of the Hammers Powered by OPTIMA Batteries is set to kick off on January 18, 2024, in Johnson Valley, California. Whether aiming to fulfill a bucket list goal or revisit a storied lakebed of perseverance and triumph, the event promises a celebration of unforgettable off-roading memories. Get your tickets for $50 now.
To purchase tickets, view the event schedule, shop merchandise and learn more about King of the Hammers, please visit www.kingofthehammers.com.
About Hammer King Productions and King of the Hammers
King of the Hammers (KOH) is the toughest two weeks of one-day, off-road races in the world. Held annually in Johnson Valley, California, the race has evolved from a single race to feature over 1,000 competitors, 80,000 on-site fans and almost 3 million online viewers in 2023. King of the Hammers is most notable for their 4400 unlimited horsepower, 4-wheel drive vehicles. Currently spanning two weeks of competition, King of the Hammers includes a diverse range of classes, such as the Every Man Challenge, rapidly expanding desert classes, short course races, King of the Motos and kid's classes and the growing Overland Experience.
Hammer King Productions, the parent company of King of the Hammers, has produced eight full-length feature films chronicling King of the Hammers races. Additionally, they have created the King of the Hammers YouTube eight-part Rookie Program series titled "Quest," and the KOH live show yearly, all production being held in-house. These award-winning films and short series have significantly illuminated this racing discipline on a global scale.