Celebrating 20 years in production and newly designed for 2023, the fourth-generation Honda Pilot is the largest and most powerful Honda SUV ever produced. The three-row Pilot SUV hit showrooms in April 2002 as a 2003 model and has gained popularity ever since. A pair of Honda Pilot TrailSports will be two of the three Honda vehicles competing in the 2023 Rebelle Rally competition. The third will be a modified Passport TrailSport.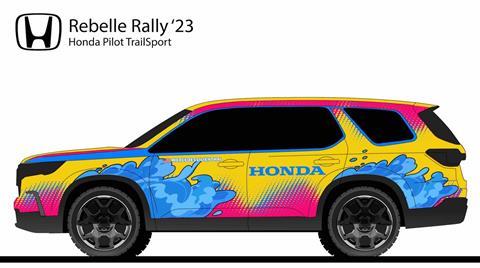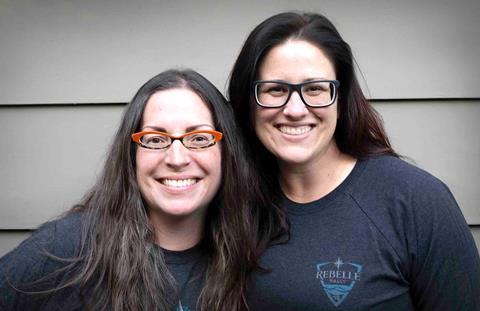 Over eight days, teams will traverse over 1,500 miles of dirt, dust, rocks to find hidden checkpoints in the middle of nowhere. Only topographic maps and a compass will be used to navigate to the finish line. No tech is allowed and only women can compete.
The Trailsport Trifecta
This is the fifth year Honda engineers will compete in America's longest off-road rally. However, it's the first time the manufacturer has asked a journalist to form a team and be a part of their overall collective. To date, I've collectively owned nine Hondas with my husband, Andy, and am honored to represent the Japanese automaker with my Washington-based navigator, Emily Winslow.
Well seasoned with a map and compass, Winslow has navigated in the Rebelle Rally four times before, two of them with me (in 2021 with Volkswagen of America in an ID.4 EV crossover and in 2022 with Jeep in a Jeep Wrangler Rubicon 4xe plug-in hybrid 4x4). I've competed as a driver three times. To date, our team was the first to bring an all-electric crossover across the finish line. We're also the only team in the rally's tenure to have collectively completed the competition in an ICE-equipped vehicle, EV powertrain, and a plug-in hybrid.
This year's Honda teams will compete in the X-Cross category and will tackle a variety of extreme terrain across the deserts of California and Nevada.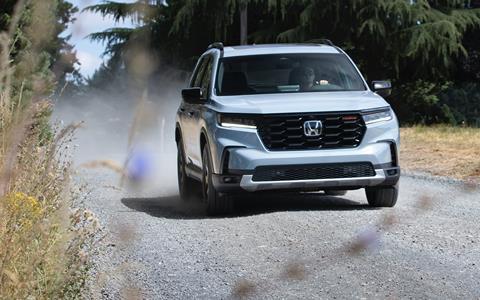 I'll be driving a 2024 bone-stock Pilot TrailSport, showcasing its capability and off-road components in factory form. The steel skid plates, protecting the oil pan and fuel tank of the 2023-2024 Pilot TrailSport, are similar in design to the custom-fabricated ones used on previous Honda Rebelle Rally vehicles. The new Pilot TrailSport also features a one inch raised off-road tuned suspension and expanded all-wheel drive system.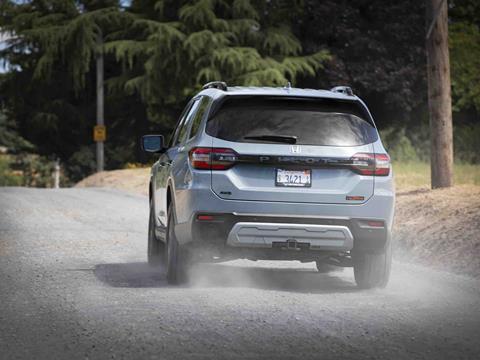 Ohio-based Liz Long is a chassis reliability test engineer at the Honda Auto Development Center (ADC). Hillary Tate is a project administrator of design and construction for Honda facilities across North America. Together, they'll commandeer a modified Honda Pilot TrailSport prepared at ADC. The duo is part of the Honda of America Racing Team (HART), a racing program run by U.S. Honda associates.
Serena Halterman and Nicole Rotondo are HPD trackside race engineers for INDYCAR and are new to the Rebelle Rally. Sol Cal's Honda Performance Development (HPD), the North American racing arm of American Honda, will build a customized Passport TrailSport for the team.
Customized Versus Bone Stock Entries
Running in the Bone Stock class means we can't alter the vehicle, other than running different tires (in the same OEM tire size) and bolting on a roof rack with recovery gear, etc. Though all-terrain tires are offered standard on the TrailSport trim, we opted for aftermarket Maxxis 265/60 R18 RAZR all-terrains for increased sidewall protection and improved traction ability with their large 3D tread blocks and lug design.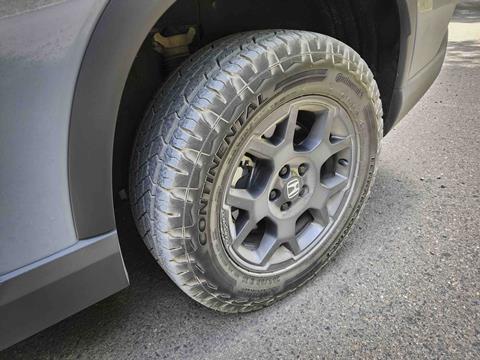 We plan to run two full-size spares; one is mounted underneath the vehicle and the other will be within it. We will also carry an ARB tire patch kit.
In addition to all-terrain tires, our Pilot TrailSport will utilize Honda Genuine Accessories Crossbars and Roof Basket. MAXTRAX recovery boards will be mounted to the rack. Provisions for a dune flag will be installed there, too. A Pro Eagle off-road jack will reside inside the Pilot TrailSport. It'll be secured alongside the second spare tire and a five-gallon water container with beefy ratchet straps and D-rings.
To finish the package, a colorful wrap designed by one of Honda's senior designers that are part of the styling and design department, Lili Melikian, will pull it all together.
"Each year we pick a theme and try to capture a little bit of the spirit of the rally, the drivers, and of course merge it with our Honda heritage," Melikian said. "This year's theme is spread among the three different terrain the competition vehicles will be driving in, so I've worked in graphics that include mud, water, and sand."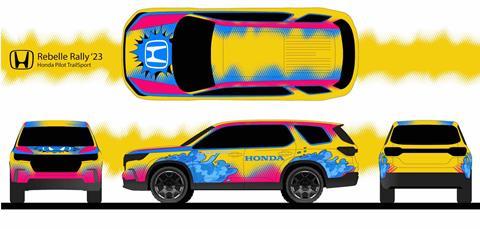 Melikian called this year's trio "Barbie meets Marvel", a twist on "comic book-style graphics in bright and pop colors."
Our TrailSport Tester's Features
I had a week-long 2023 Sonic Gray Pilot TrailSport pre-Rebelle Rally vehicle loan. During that time, we discovered the three-row SUV has many amenities that make it a road-worthy warrior as well as a solid off-road contender. Its 285 hp 3.5-liter V6 engine shifts smoothly and is mated to a 10-speed automatic transmission.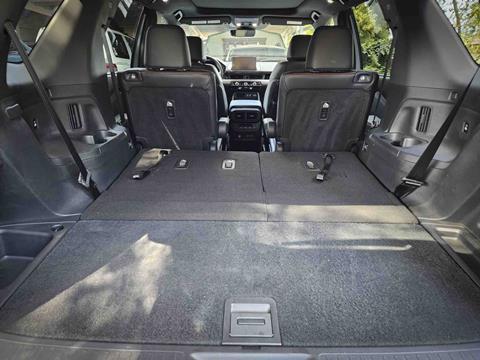 The Pilot TrailSport features Honda's i-VTM4 all-wheel-drive system with Trail Torque Logic that keeps it on the straight and narrow, even in loose gravel.
The TrailSport comes with integrated normal, econ, snow, tow, trail, and sand modes—the last two will be perfect for October's competition. The Pilot TrailSport (which will be the same for 2023 and 2024 model years sans the price) has front and rear recovery points. It also includes hill start assist and hill descent control.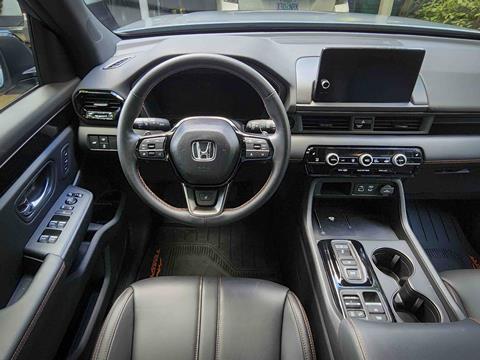 Additionally, the Honda Pilot TrailSport comes with an extensively robust Multi-View Camera (MVC) system and TrailWatch. Four strategically placed cameras (in the grille, at the bottom of each side mirror, and in the tailgate) share images of surrounding images via a nine-inch color touchscreen. Both front and side-view cameras can be activated when the Pilot Trailsport is moving at or below 15 miles per hour when Trail mode is selected.
When not in Trail mode, the forward-view camera can be turned on at any time below 15 miles per hour. During MVC and TrailWatch, several camera view options give drivers valuable information about nearby trail hazards or other potential issues. Once the vehicle exceeds 16 MPH, the system deactivates.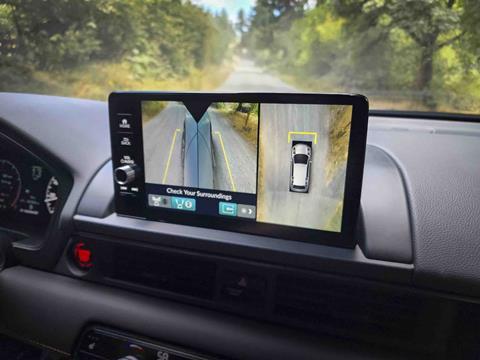 On the interior, the Pilot TrailSport showcases an enormous functional panoramic roof and comfortable, supportive seats with contrasting stitching. This SUV comes with all the tech goodies (though we can't use them during the competition). It also has heated front seats and a heated steering wheel—perfect for cold desert mornings.
Generally Speaking
There has been a 77% growth in households who camp since 2015, and 58% of those people have children. That's a huge increase. The fourth-generation Pilot has seen an explosion of off-pavement enthusiasts with 22% of 4WD Pilot and Passport sales being TrailSport sales in their first full year. That's saying something about how people want to venture outdoors.
The Pilot TrailSport can seat seven or eight passengers. The second-row middle seat stows under the rear cargo floor when not needed. The third row is easily accessed when the seat is stowed but the middle seat is available in a cinch.
Pricing + More
The manufacturer's suggested retail price (MSRP) of the 2023 Pilot TrailSport, excluding tax, license, registration, $1,345 destination charge, and options is $48,700. Our week-long pre-Rebelle 2023 tester's MSRP price was $48,745, including pre-delivery service. However, the 2024 Pilot TrailSport, like the one we'll run in the event, will essentially remain the same, sans a small uptick in price ($48,800 vs. $48.700, excluding tax, license, registration, $1,345 destination charge, and options). Both model years are EPA-rated at 18 miles city / 23 highway / and 20 combined.
In addition to the Pilot, Honda recently announced the TrailSport package will be coming to the Ridgeline pickup truck later this year. Plus, the smaller five-passenger Passport TrailSport will receive updates. With so many people wanting to explore the great outdoors, it makes sense that the TrailSport trim is becoming Honda's adventurous backbone. Now let's see how the TrailSport trio tackles the desert come October 12-21!
Stay tuned to OVR as a full feature on Honda's rally teams and more will be published after the event.