After driving the stock 2021 Outer Banks Ford Bronco for nearly 2 years and over 42,000 miles, OVR: Outdoor Vehicle Recreation is ready to turn this beauty into a more capable all purpose overlanding vehicle.
It's August 2021 and the new car salesman at a not to be mentioned Ford dealership calls me up and offers a 2021 non-Sas Bronco at a whopping $5k over sticker. He made it sound like the offer of a lifetime and goes on to tell me the person that ordered it backed out because they didn't want to pay the "market adjustment" fee.
I thanked him for the offer but told him I'm not interested in that particular package. Long story short, and a month later, I ended up buying the Anti-Matter Blue, 4-cylinder, 4-door, soft top, 2021 Ford Outer Banks for $4k over sticker and I couldn't be happier.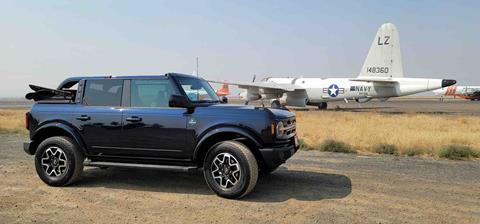 With the COVID lock down in full swing, like many people, I took the new Bronco to the backwoods of California, Arizona, and Oregon. Mile after mile, the grins turned to smiles, and the smiles turned to laughter as the 4-banger turbo Bronco continued to deliver on the marketing message.
Coming off the 2nd Gen Ford Raptor and it's 36-gallon tank delivering 16 mpg, let's say I was very happy with the fuel sipping 6th Gen 2021 Pavement Princess that gave me an average of 22.9 mpg over 42k miles! On the pavement, the Bridgestone tires were quiet and compliant, on the fire roads, the tires and suspension worked in tandem to give a "buckin" ride down the bumps, washboards, washouts, and ruts…. and no, I didn't air down.
As a Pavement Princess, the Bronco exceled but where it had issues was 8.4 inches of clearance, no lockers and the shocks were very limiting. I guess that is why Ford offered the Sasquatch Package. From bow hunting in Arizona to fishing in Oregon, from chasing during the Baja 500/400/1000 to camping and off-roading in the Eastern Sierras, the stock OBX Bronco created tons of memories and always came back home with tons of dust, sand, and mud but I was always a bit nervous going out to the backcountry.
Now that we launched OVR: Outdoor, Vehicle, Recreation in print, digital and had stories going onto this website, it was time to do a project vehicle and the perfect patient had been quietly waiting for a personalized aftermarket Sasquatch package.
No More Factory Warranty/ Let the Fun Begin!
Growing up in Anchorage, AK, I spent my springs and summers on the rivers and the riverbanks of the Kenai, Seward, Whittier, Copper River, etc. I drove thousands of miles and spent countless nights under the stars as we camped, fished, and hiked during my formative years. Our first "overlanding vehicle" was taking my dad's late '80s Dodge Ram 1500 Cargo Van and converting it for multiday vehicle-based Alaskan outdoor activities.
Flash forward 35 years to 2023 and the amount of personalization that is possible for our vehicles are endless and abundant. From vehicle performance upgrades to lifestyle creature comforts, the choices provided to us are myriad and bound by our imagination, outdoor needs, wants and the almighty wallet.
To get inspiration for this Bronco build, I attended Overland Expo West (Flagstaff, AZ), Overland Expo PNW (Redmond, OR), Rigs & Coffee meetups, SEMA trade show, Score International Baja Race events and countless other places where people are passionate with their purpose-built vehicles.
For our 2021 Pavement Princess, we decided to go with a theme of All-Purpose All-Activity Overlanding vehicle. Like my dad's Dodge Ram Cargo Van, the Bronco would have to be a good everyday driver with mild manners on the highway yet be able to get me out to the backcountry for fishing, dispersed camping, bow hunting, and making runs to Baja for prerunning and chasing the Baja races.
First order of business was deciding what was needed and wanted. After talking to Sean P. Holman (Editor-At-Large) and Jerry Tsai (Editorial Director), we decided on the following: New Shoes (Wheels & Tires), Suspension Upgrade, Spare Tire Mount upgrade, Front & Rear bumpers, Rear Locker, Lights (inside & outside), Batteries, Brake kit, Sway bar, Winch and Recovery. After all this is done, we will look at lifestyle upgrades like Kitchen, a Goose Gear rear door table, Slider and Refrigerator, Organizers, Solar System, etc.
New Shoes (Wheels & Tires)
It always amazes me how new wheels and tires can have such a transforming effect on a vehicle. For wheels, we opted to go with a one-piece cast aluminum 18x9, 6x135 +12mm offset Black Rhino Kelso. This monoblock simulated beadlock design looks goods provides a load rating of 2450 lbs. while keeping the weight to 32.43 lbs. per wheel.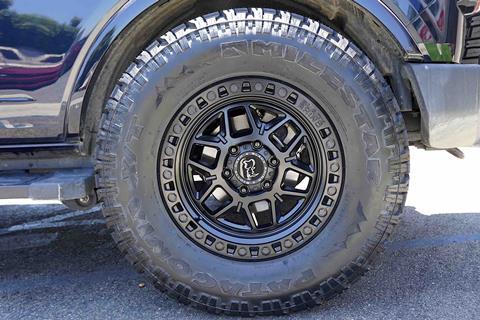 For tires, we reached out to OVR launch partner: Milestar Tires. I told them we wanted to upgrade from the 255/70R18 Bridgestone Dueler A/T tires to a 35-inch tire sitting on 18" wheels. I emphasized it had to be quiet as this Bronco was a soft top and I really enjoyed driving it with the top down. Last thing I wanted to hear was the tires humming to the grooves of the road.
Their recommendation? The Milestar Patagonia XT. Since putting on these tires, I've driven over 3,000 miles in just a couple of weeks: towing a fully loaded Schutt Industries XVentures XV-3 to Overland Expo PNW and getting off the highway on some fire roads. To my surprise, it was as quiet as the Bridgestone, and it felt a lot more responsive, probably due to the stiffer sidewalls and the front and rear suspension upgrade kit.
Suspension- Bilstein
After the wheel and tire installation and before the Bilstein upgrade, we ended up driving the Bronco about 250 miles. While the 18" Black Rhinos looked nice and the Milestar Patagonia XT tires were quiet, there was something wrong with the wheel/tire upgrade. At first, we thought maybe the tire balance was off but as we drove it more, that wasn't it. Then we thought the alignment was off but again, that wasn't it. There was something slightly off, but we couldn't get my hands on it. So before jumping to conclusions, getting the Bilstein upgrade kit installed was urgent.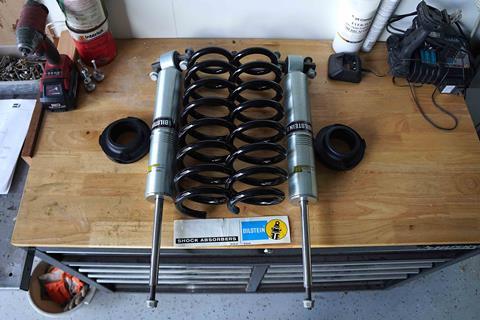 As the Bronco came with the Bilstein from factory, I decided to stay with the factory mounts. On the priority "want" list was more clearance and dampening for more performance and confidence on and off-road. We reached out to the Head of Marketing and Powersport at Bilstein and got the conversation started. He recommended the Bilstein B8 6112 Front and Rear suspension upgrade kits and shipped it over for us to install a few days after our conversation.
With Overland Expo PNW just around the corner and the install shops busy with other jobs, I called on Dan Cornwell of Cornwell Racing and asked him if he could lend a hand with the last minute installation. I drove down to the Baja Barn and 4 hours later and one YouTube video, we had the Bilstein B8 6112 suspension kit installed.
Lo and behold, that little something I couldn't identify disappeared after the installation of the Bilstein suspension kit. The shakedown was a grueling 4-hour Friday afternoon drive from San Diego back to Los Angeles, but the bright side was the steering and suspension felt much better than the factory offering. It felt so good, I decided not to get an alignment before the Sunday departure for Overland Expo PNW. Here is a link to the detailed installation story.
Spare Tire Carrier
With the wheels, tires and shocks installed it was time to upgrade the spare tire carrier. For this, I reached out to Ryan Kennelly, engineer for team Smittybilt and freelance writer for OVR. He recommended their HD Pivot Tire Carrier made of monoblock aluminum construction with chromoly mounting brackets which can carry up to 135lbs. After a few calls and emails to the marketing team, I picked it up and was ready to install. Utilizing the paper instructions that came in the box, my 16-year-old son was able to take off the old and put on the new one. Step by Step DIY installation story coming soon. In the meantime, here are some images.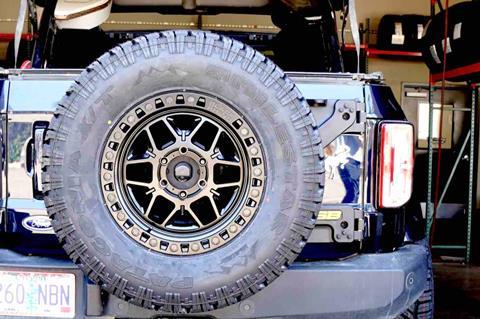 More To Come…
Next on the install list is communications via Midland MXT575 GMRS Two-Way Radio along with the MXAT01 FireStik Style Antenna, SVC Offroad's front and rear bumpers, Baja Design lights, Rear locker from Eaton, Hellwig sway bar, Optima batteries, brake kit and recovery from Warn and Factor55. As we do these upgrades, we will continue to provide installation instructions and try to answer as many questions as possible. Please bookmark this story and follow us on Instagram @OVRmag.
If you have suggestions on this build, please leave comments below and I will do my best to respond.
Read more about OVR's non-Sasquatch Bronco Project by clicking here.