Quadratec Inc., the world's largest independent retailer of parts and accessories for Jeep vehicles, has announced the launch of its new line of Carnivore bumpers exclusively for Wrangler YJ/TJ models. These heavy-duty bumpers are available for both front and rear and are engineered to withstand the toughest on and off-trail conditions.
With enhanced recovery points, auxiliary light mounting solutions, and winch mounting options, these bumpers are designed to offer exceptional performance and style.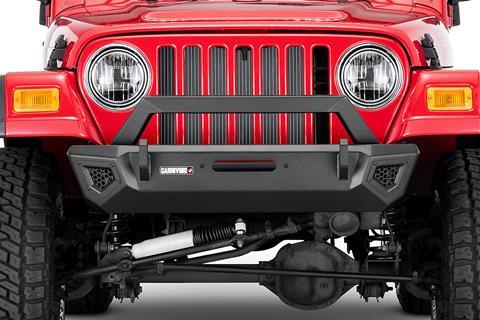 Mike James, the Brand Manager at Quadratec, said, "We are excited to introduce our new line of Carnivore bumpers, which provide Jeep Wrangler YJ and TJ owners with their first new bumper choice in a long time. After years of research, customer feedback, and rigorous testing, we believe these bumpers are the best on the market for Jeep enthusiasts looking to enhance their vehicle's performance and style."
The Carnivore bumpers are built with robotically welded 5mm steel plating and 6mm frame mount brackets and feature a durable black powder-coated finish that guards against corrosion. The front bumpers are available in both full-width and stubby editions, with the former designed to protect fender flares and tires and the latter offering a more aggressive look for those who enjoy off-road adventures. The full-width bumpers come with integrated fog light holes that fit 3-inch cube lights and paintable stone mesh guards, while the stubby bumpers feature stone mesh guards as accent pieces.
The Carnivore Wrangler TJ bumpers also come with an optional overrider grille guard that is slotted across the top to fit a light bar or auxiliary light cubes. The front bumpers are equipped with an integrated winch mount that fits most winches up to 12,000 pounds and installs to factory mounting locations without the need for drilling.
They also feature two reinforced hook mounts that double as D-ring locations. The rear bumper is designed to accommodate larger spare tires, includes a 2-inch receiver hitch for accessory racks, and has two D-ring clevis tabs as well as mesh-covered 3-inch cube light mount brackets.
Carnivore bumpers from Quadratec Inc. are a fantastic addition to the market for Jeep Wrangler YJ and TJ owners. With their exceptional design, durability, and performance, these bumpers are a must-have for anyone looking to take their vehicle to the next level.
About Quadratec, Inc.
Built on over 30 years of excellence, Quadratec, Inc. is more than just an industry leader in the aftermarket Jeep world. It is a dream builder, problem solver and passionate advocate for all enthusiasts of the legendary Jeep CJ & Wrangler, Cherokee, Grand Cherokee and Gladiator vehicles. Quadratec delivers the very best parts and accessories that provide Jeep owners with a sense of security to handle any journey with confidence. Learn more at www.quadratec.com.