We considered a few kits such as ones from OME and Dobinson, but we ultimately chose Ironman 4x4's Foam Cell Pro 2" Stage 3 suspension kit.
With almost 500 off-road miles driven on the OVR's Land Cruiser 100 (LC100) project vehicle's recently upgraded wheels and tires, we felt that it was time for another essential upgrade to get the most out of the vehicle's off-roading capabilities. Yes, we're talking about suspension.
As it came to us, the LC100 was configured with mostly stock suspension except for front SPC upper control arms and a pair of Old Man Emu (OME) springs in the rear. The LC100 rides on stock torsion bars in the front so the previous owner, or perhaps the owner before him, cranked up the bars' torsion a bit, which resulted in a modest 1" front lift. The small lift was fine with the 32" tires it came fitted with but with the heavy-duty OME springs in the rear, the LC100 had a very noticeable rake to it with the rear sitting over two-inches higher than the front.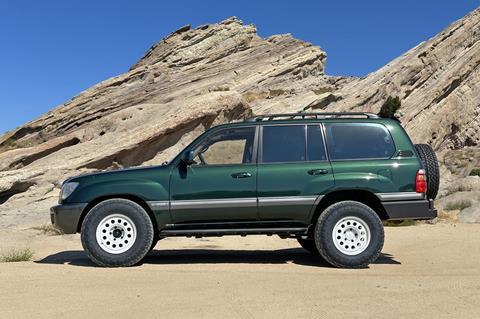 Our previous upgrade to the OVR LC100 was a set of Toyo Tire Open Country A/T III tires with Nomad Wheels' 501SA Convoy Salt wheels. The larger 33.5" diameter tires definitely increased ride height a smidge. While we immediately noticed the increased traction not to mention (in our opinion) improved looks from the wheel and tire setup, the larger tires did rub the frame in the area just behind the front tires a little when the fronts were almost fully turned.
To remedy the front tire rubbing issue as well as the truck's steep rake, and more importantly, to gain improved driving characteristics on and off the road, we looked into suspension upgrades. Like many other trucks, the Land Cruiser 100 Series has a lot of suspension options available to it so deciding which parts to go with can be a bit overwhelming.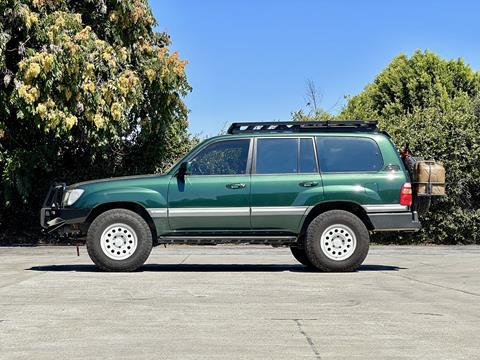 Choosing A Suspension Kit
How extreme – or not extreme do you want your set up to be? To answer that question, another question must be asked. What do you intend to do with your truck? A truck set up for taking on extreme rock crawling is going to be worlds different from a vehicle that spends its off-road time primarily on dirt fire roads. Another big consideration is budget. Just how many mortgage payments are you willing to stuff under your truck? Your wallet will help you decide.
In our case, the OVR LC100 is meant to be an off-road capable, nature seeking tourer as opposed to a double black diamond level competition crawler. We're not looking to be champions of King of the Hammers after all. Most of the 500 off-road miles driven on it so far were of the dirt and gravel road variety, plus long sections of the modestly rocky trails that Southern Californian mountains are known for.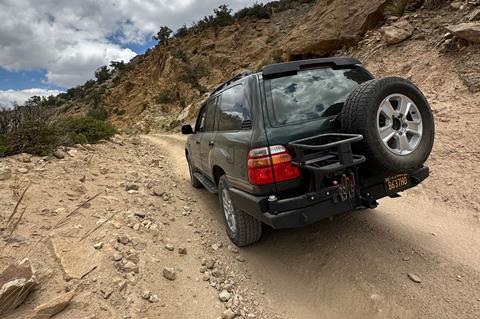 If there was a more challenging way to drive a route, we bypassed it in favor for a more conservatively safer route. Some people get their thrills from challenging their machines to the point of damaging them, not us. We like our truck in one piece, thank you very much. With that in mind, we felt that we didn't need an extreme suspension set up but we still wanted something capable enough of crawling over some challenging terrain in case we ever came up on a rough section that we couldn't avoid.
Need Based
Based on our needs, we knew that as sexy as external bypass reservoir shocks are, our needs only required a traditional shock set up. Other than the benefits of less parts to worry about failing on the trail and less overall maintenance, the overall cost would also be cheaper with a simpler shock set up as well. We know a few adventurers that have regularly traversed the Australian Outback and the entire African continent and their ride and traction needs have been met by such "basic" suspension setups. Our local jaunts probably wouldn't need anything more and any quality suspension package would provide more capability than we would usually ask of it.
Ironman 4x4
We considered a few kits such as ones from OME and Dobinson, but we ultimately chose Ironman 4x4's Foam Cell Pro 2" Stage 3 suspension kit. We went with Ironman 4x4 for multiple reasons including its interesting Foam Cell technology, comprehensive kit offering that includes everything we need for the LC100, reasonable pricing and great word of mouth reviews from those who have sets in their trucks.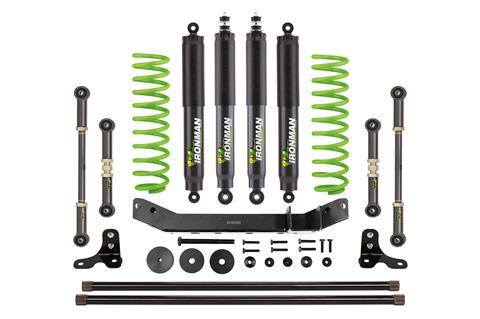 The first thing we noticed is just how large the Ironman 4x4's Foam Cell Pro shocks are. They're quite girthy when compared to other shocks. These big bore 3" twin-tube shocks feature a foam cell sleeve that is impregnated with millions of tiny bubbles of nitrogen, which helps to maximize its premium grade Fuchs oil and thermal carrying capacity within the shock.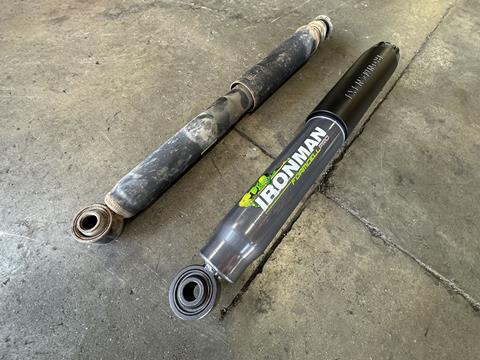 Ironman 4x4 claims that the oversized and robust shock is nearly indestructible and contains no internal parts which can jam which helps them to have little to no service requirements. The Foam Cell tech also helps to eliminate high internal pressures found on regular nitro gas-shock absorbers making it easy to rebuild if needed. We heard that the Foam Cell shocks ride a tad bit stiffer than nitro shocks, but that the performance benefits would be worth the stiffer ride trade-off. We'd find out for ourselves very soon.
Promising a 2" lift for the Land Cruiser, the Stage 3 version of Ironman 4x4's comprehensive suspension kit also includes a set of beefier torsion bars for the front, a set of rear coil springs, all four Foam Cell Pro shocks, upper and rear trailing arms as well as very LC100 specific upgrades such as a differential drop kit and 100 Series control arm reinforcement. Those last two items are highly recommended when lifting an LC100 as they help remedy problem areas when the truck is lifted 2" or higher. We're glad Ironman 4x4 includes all these items in their kit and all for just $3,259. Sure, three-grand ain't chump change, but the value for what you get in this all-inclusive kit makes it the best value on the market that we've seen. Factor in Ironman 4x4's seasonal website discounts and we've seen this kit go for as low as around $2,400.
As for the rear springs, Ironman 4x4 also allows you to choose how heavy of a load you want them for. In our case, we chose medium, which covers 0 to 440 pounds of additional payload. We intend on installing a drawer system, roof rack, a fridge and we currently have a heavy dual swing out rear bumper with a big 'ole spare hanging off the back, so we may be nearing the upper regions of the 440-pound limit already. Because we wanted a softer ride, we didn't opt for a heavier spring, but we can always go to one if needed later on. Other rear coil spring choices include heavy (440-880lbs.) and extra-heavy (880lbs. to GVM) for those carrying heavier loads.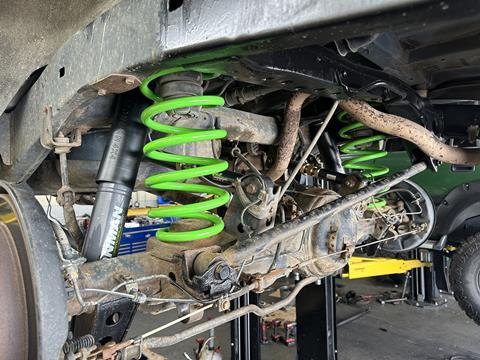 RPM Off-Road Garage
We had the suspension kit shipped directly to RPM Off-Road Garage to help with the install. Even though the kit can be installed in your driveway if you have the right tools and knowhow, we chose to let the experts handle it. Located in Monrovia, California, RPM Off-Road Garage specializes in Toyota and Lexus applications, and has made a name for themselves in the 'Yota community. Steve Lam, owner of RPM tells us that the Ironman 4x4 Foam Cell Pro suspension kit is one of the most popular amongst his customers, having installed many kits in various Toyota and Lexus trucks.
Placing the OVR LC100 on the lift revealed that the truck has its share of rust issues. Some parts were a bear to tackle, but the crack team at RPM handled it in stride – and with a ton of WD-40. While it was on the rack, a few repairs were recommended by the RPM team including a new rack and pinion to replace the old, leaking unit. We approved the repairs and the work begun.
The old suspension was removed and the new parts installed. The shocks and springs went in without issue. The old torsion bars were rusted in pretty thoroughly so they burnt up hours upon hours to try to dig out. Eventually, the stock units gave way and the new Ironman 4x4 torsion bars went in. I was told by our technician that Ironman 4x4 parts are easier than others that he's installed due to its correct dimensions and build quality.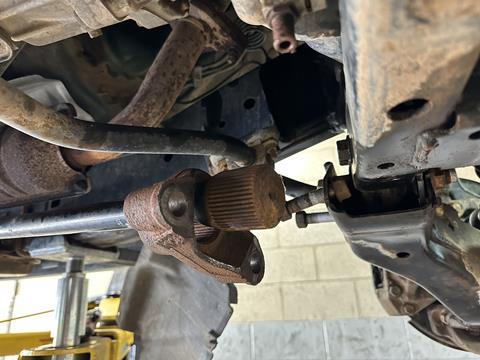 Reinforcements & Retrofitting
A weak point of the Land Cruiser 100 Series is its lower control arm area. Ironman 4x4 tells us that the IFS-equipped 100 Series Land Cruiser experienced issues with cracking of the lower control arm around the area that the torsion bar torque arms bolt to due to the high torque and impact loadings passing through the torsion bars and the lower control arm.
For this reason, Ironman 4x4 created a reinforcing bracket that strengthens the lower control arm in the area where cracking is experienced. These brackets came with the kit and we were glad to have them installed.
Ironman 4x4's front differential drop kit, another retrofit item that protects the Land Cruiser from its inherent problems was included with the Stage 3 suspension kit. This kit corrects front driveline angle reducing CV wear. For those only needing the LC100 problem correcting parts, both the diff drop and control arm reinforcement bracket kits are available separate from the suspension kit.
After the suspension was installed, RPM Off-Road Garage proceeded to do an alignment to make sure everything is squared up and sitting correctly. RPM is known for their alignments and suspension set up and unlike general alignment shops, knows the adjustment settings that benefits off-roaders in particular. Being Toyota and Lexus off-road specialists, they even have particular model settings already dialed in, like that of our LC100.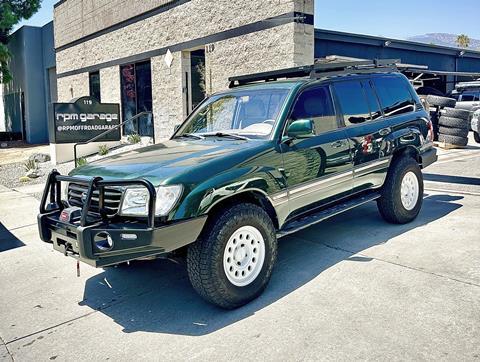 On & Off the Road
With everything complete, we were ready to head out to the trails to see how the OVR LC100 handled. We headed 100 miles to the Holcomb Valley area in Big Bear, California to put the Ironman 4x4 Foam Cell Pro suspension kit through its paces. Even before we touched dirt trail, we noticed a difference in the Land Cruiser's ride and on-road attitude. The ride was definitely a bit firmer, not teeth rattling, but firm like how a German luxury sedan may feel.
The SUV drove with noticeably less body roll and felt more confident around turns. In fact, we were much more confident driving up the curvy roads leading up to Big Bear and were able to take those turns a bit quicker than we had been able to before. We credit the Foam Cell Pro shocks for the upgraded on-road confidence.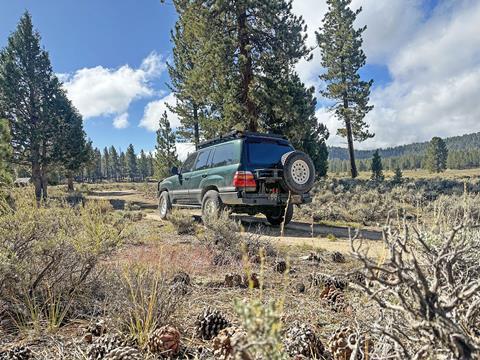 Heading off the road, we first encountered a long gravel road that had stretches of rough washboard corrugations. The truck glided over the gravel and corrugations without issue – just the way we like it. Turning onto a tight dirt trail complete with plenty of deep ruts, the Ironman 4x4 suspension stayed unphased. We spent about 30 miles on a mixture of dirt and rocks going up the side of a mountain, then back down it.
The driving feel was firm and commanding, without any hesitation on slopes, slants, off angles, driving out of a rut, riding on the brake coming down from a rock, you name it. The new suspension set up coupled with our recently upgraded wheels and tires handled it all in stride. We'll need more miles on it to give a more thorough performance and durability review, but the suspension kit is performing very well so far.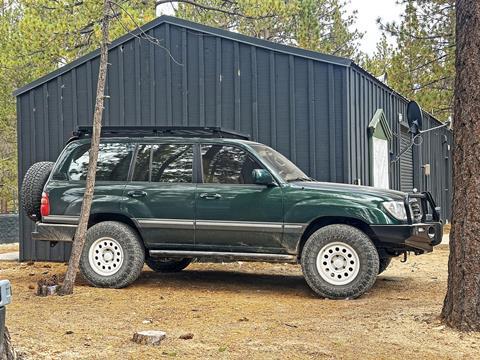 Final Thoughts
The Ironman 4x4 Foam Cell Pro Stage 3 lift kit is not only suited for the Land Cruiser 100 Series, but the Lexus LX 470 as well. The company also makes suspension kits for a wide range of vehicles, including Jeep, Subaru and more.
It combines upgraded on-road dynamics that dramatically reduces body roll and increases stability for improved off-road touring performance. For the price, the kit is hard to beat and for the needs of our OVR LC100, it's the perfect suspension kit for our driving requirements.