Rivian took first place at the 2023 Rebelle Rally in the 4x4 class – the first team in a fully electric vehicle to win the rally.
The winning team, Limestone Legends, consists of Driver Lilly Macaruso and Navigator Alex Anderson, both employees of Rivian. They competed in a 2023 Rivian R1T (Lily and Alex's bios can be found here). Lilly and Alex competed for the first time in the 2022 Rebelle Rally, finishing in fourth place overall in last year's competition and earning the Rookies of the Year award.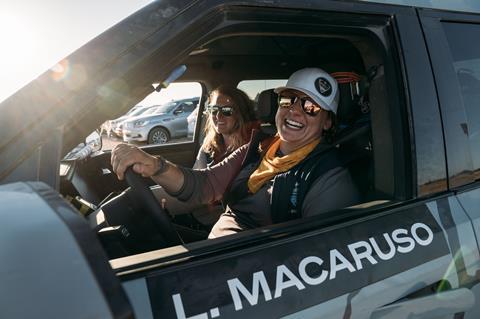 Rivian's customer team, Driver Mandy Brezina and Navigator Alex Gilman, finished in 11th. They were the first in rally history to compete in a personally owned, fully electric vehicle. This was Mandy's fourth appearance at Rebelle and Alex's second. In the 2023 Rebelle Rally, Rivian took three of the top twenty positions, with a fourth team finishing in 30th.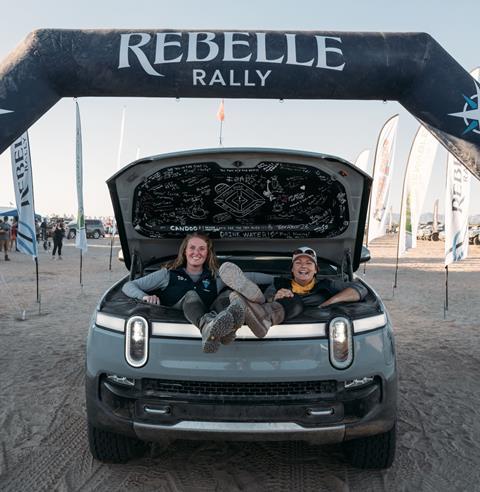 About Rivian
Rivian (NASDAQ: RIVN) exists to create products and services that help our planet transition to carbon neutral energy and transportation. Rivian designs, develops, and manufactures category-defining electric vehicles and accessories and sells them directly to customers in the consumer and commercial markets. Rivian complements its vehicles with a full suite of proprietary, value-added services that address the entire lifecycle of the vehicle and deepen its customer relationships. Learn more about the company, products, and careers at: rivian.com.
About Rebelle Rally
The Rebelle Rally is the first women's off-road navigation rally raid of its type in the United States. It is the ultimate road trip for the adventurous and competitive woman. The name of the game is pace and precision. You do not need to be a professional driver or have a race vehicle. The Rebelle is designed for 4×4 and X-Cross vehicles and takes place on the stunning dirt roads, double tracks, trails, and sand dunes of the vast American West. Whether you are new to off-road, or a seasoned pro, our goal is to challenge you to embrace and enhance your driving and navigation skills for your future journeys – wherever they may lead you. Learn more about the race at: rebellerally.com.